Temps For Hire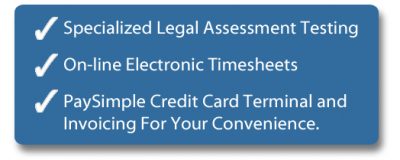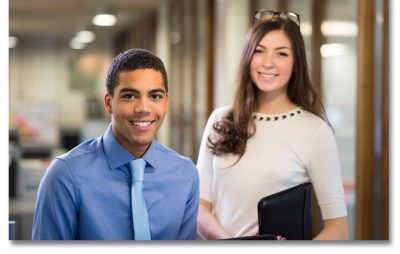 Temporary legal help is needed to address normal legal staffing fluctuations in workflow to help meet employer deadlines in a timely, efficient and professional manner. Due to budgetary constraints, law firms and corporate legal department employers keep permanent staffing levels low and will retain temporary legal staffing employment services for excess workload such as attorney, paralegal/ legal assistant time-sensitive projects, litigation support, legal secretaries, document specialists, administrative and all clerical temporary legal support personnel services in the legal field.
A second use of legal temporary help is to fill placement opportunities that are vacant. This avoids the need to rearrange permanent assignments of existing employees or the need to recruit and hire legal staff for attorneys and law office management and administration.
A third use of legal temporary help is a source for identifying and hiring the placement of direct hire employees. Law firms and legal departments will often need to hire temporary legal support staff through temporary legal employment agencies to fill upcoming career opportunities. If the temporary employee is an ideal candidate for the specific vacancy, the employer will arrange for the temporary employee to be hired on a temp-to-hire basis through the temporary legal employment agency.
New York Legal Staffing, Inc. offers temporary and full-service NY legal staffing services to the New York legal community and tri-state area. Thanks to our superior client service record relying on the solid reputation of our parent company Nadine Bocelli & Company, Inc., we offer legal employers viable alternatives to meet their current workforce demands. Our distinguished roster of law firm and corporate legal department clientele continues to expand and we continue to attract the best legal temps to our New York City temporary legal employment agency.
We are here to react quickly and effectively to your hiring needs and we welcome the opportunity to partner with you, no matter how complex they may be. Thank you for your valued business and trust in our services.
Member of the Better Business Bureau of Metropolitan New York
New York Legal Staffing, Inc.
45 Rockefeller Plaza, 20th Floor
New York, NY 10017
212.644.0077
New York Temporary Legal Staffing Agency For Law Firms & Legal Departments, Legal Temp Agency in NYC 212.644.0077 Legal Temp Help